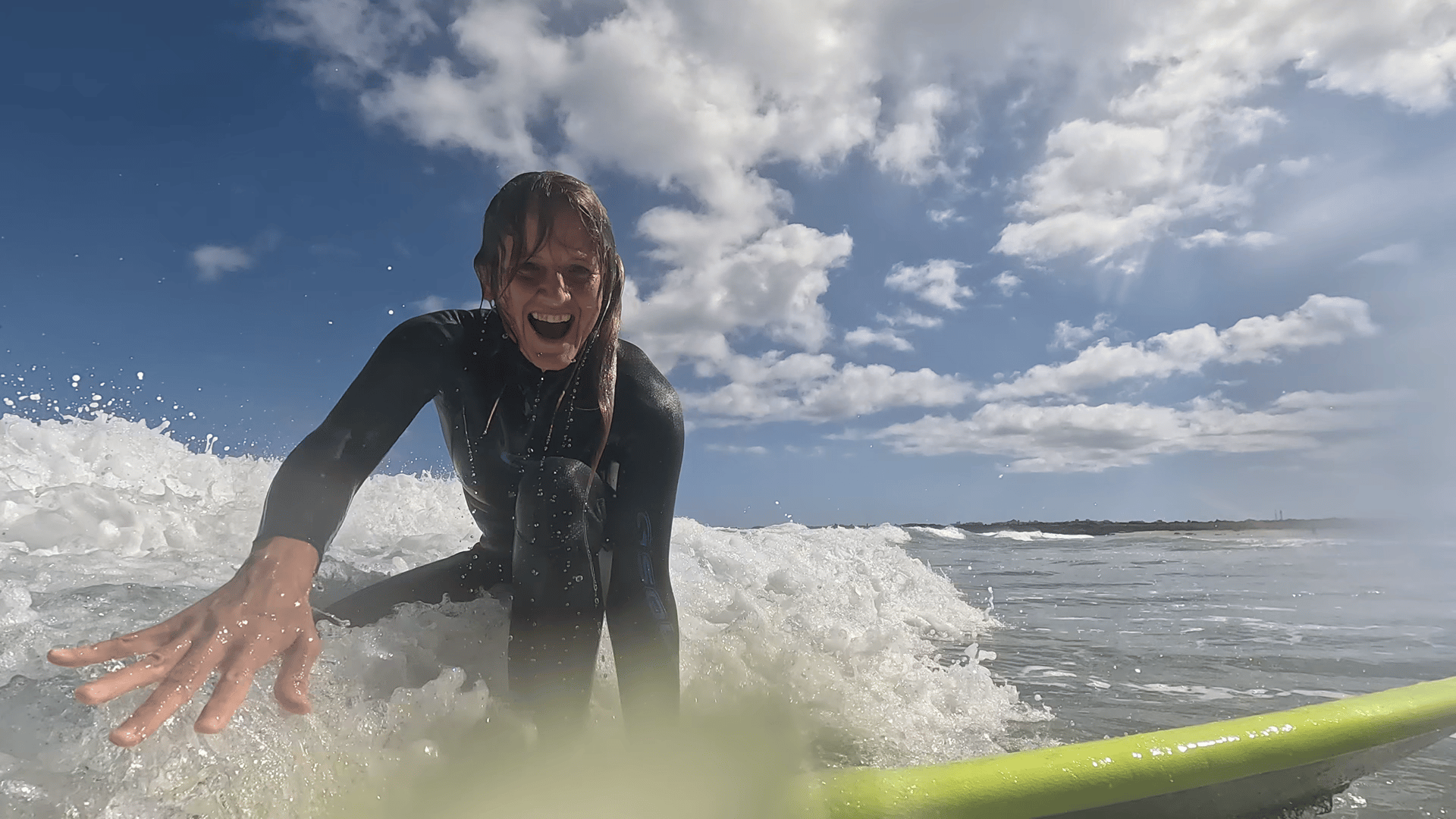 Falling, Rolling, Wiping Out - Learning to Surf in Playa de Órzola (4K Video)
Watch the authentic surfing saga of Adventure Lanzarote at Playa de Órzola, where we tackle the exhilarating challenges of learning to surf against the stunning backdrop of Punta Fariones. We offer you the raw experiences of novice surfers – from relentless wipeouts to hard-won small triumphs – and offers inspiration for anyone drawn to the adventurous spirit of riding the waves. Embrace the unpredictable, learn the rhythm of the ocean and share the joys of surfing in one of Lanzarote's hidden gems.
VIDEOSSURFBEACHES
Falling, Rolling, Wiping Out
A video of supercool surfing heroes, smooth polished rides, and rad ripping skills -- this is not!
Disclaimer: Outdoor activities you see in our videos inherently come with dangers. Remember, we're trained athletes, and there's a ton of experience behind each action you see. Though most of our videos show easy activities, not everything is beginner-friendly as it may seem. We strongly advise against replicating any actions seen in our videos without the appropriate training, experience, and equipment. If you decide to try anything based on our videos, it's all on you and at your own risk. We cannot be held liable for any incidents or injuries that may occur. Parents, always gauge what's right for your kids based on your own and your children's capabilites.
Safety first, always respect and keep a healthy fear of the outdoors, and have an amazing time out there!
At Adventure Lanzarote, we're not just about showcasing the island's stunning vistas and hidden gems; we're about living the adventure that this island promises. In our latest venture, we swap hiking boots for soft top boards as we embark on an exhilarating journey into the world of surfing at Playa de Órzola (or Playa de la Canteria, as it's officially known -- or Playa de Atras, as it's locally dubbed).
The Mission: Learning to Surf
Our video chronicles a raw and honest account of our surfing saga, quite distinct from the polished and pro rides that so often grace the internet -- and hey: we can't get enough of those! As self-taught novices who fell in love with surfing only last year, on other side of forty, we're here to share the unfiltered reality of learning this unique, fascinating and captivating sport -- which was, by the way, one of the main reasons for our move to Lanzarote, which boasts the best waves in the Atlantic.
Experience the day-to-day challenges we faced – from mastering the board to understanding the ocean's rhythm. With each sunset, our after-work surfing sessions became an exercise in perseverance, marked by numerous falls, underwater rolls, and endless wipeouts. But each tumble was a step towards improvement, and every triumphant stand on the board was a little (huge!) victory in its own right.
As we reflect on these sessions, now tackling bigger sets and having graduated to hardboards, we realize the invaluable lessons surfing has taught us. Beyond the thrill and excitement, surfing is a dance with nature, requiring respect, humility, and a resilient spirit.
Through our video, we invite you to relive with us our initial forays into surfing – the triumphs, the spills, and the sheer joy that comes with riding the waves. It's a journey that speaks to the heart of every aspiring surfer, reminding us that with patience and persistence, the ocean's rhythm can be learned, and its waves can be felt like a part of you (if only for brief seconds after a long battle).
The Setting: the Hidden Gem of Playa de Órzola
Set against the awe-inspiring landscape of Playa de Órzola, our surfing episodes were more than just sport; they were an immersion into nature's grandeur. The majestic cliffs of Punta Fariones, the watchful presence of La Graciosa and the Chinijo Archipelago, the crystalline waters, and the black lava fields of the Malpaís de la Corona with its lovely vegetation all served as a surreal backdrop to our oceanic odyssey.
Playa de Órzola is one of the best spots in Lanzarote for beginner surfers. This is a perfect beach break with lots of room, it is protected, very quiet and not crowded, and it is super-consistent. Anyway, it is not the easiest, as waves tend to be quite powerful and rip currents are frequent, so avoid bigger swells and, if you've never been on a surfboard before, maybe Playa de Famara -- about half an hour away and with plenty of surf schools -- is a better option.
Join us at Adventure Lanzarote as we share this captivating tale of growth, exhilaration, and the unbridled joy that surfing brings. Whether you're a seasoned surfer or someone who's yet to touch a board, there's something in our story for everyone. The ocean awaits – are you ready to dive in?