Lanzarote's Top Beaches: A Guide to Relax, Romantic Strolls and Natural Beauty
Discover the best beaches of Lanzarote in our comprehensive guide. Whether you're seeking a tranquil spot to relax and meditate, a romantic shoreline stroll, an amazing swim, the perfect playground for a family day or to lose yourslef into nature's untouched beauty, in this article we will curate the ultimate list for beach enthusiasts. Dive in and plan your next sun-soaked getaway or discover your next happy place.
ACTIVITIES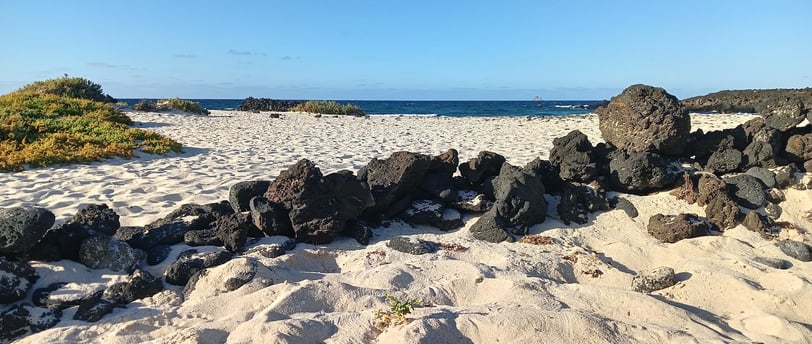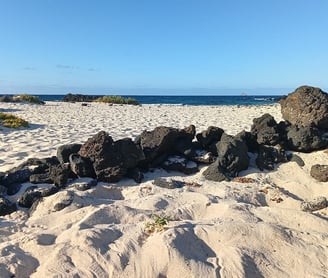 Lanzarote, an island born from fiery volcanic eruptions, has transformed over the millennia into a sanctuary of unique beaches. From quiet little coves to unending stretches of sand crowned by majestic cliffs, from pitch-black to golden and blinding white, from stones to gravel and flour-like sand, its coastline is endowed with treasures as stunning as they are varied. Are you ready to discover them all?
In this section, we will curate a growing list of articles and videos discovering and telling you about each of them. Some of the beaches we will explore are...
1. Playa Papagayo: The Undisputed Star
Tucked away in a sheltered bay, Playa Papagayo often tops the lists of "The Best Beaches in Lanzarote." And for an island famous worldwide for its beaches, that's something. With its tranquil waters and ambient atmosphere, it's a must-visit for anyone seeking the quintessential Lanzarote beach experience -- and for anyone looking for the perfect postcard shot.
2. Playa de las Mujeres: Vast and Vibrant
Its expansive shores beckon sun worshippers and those seeking a leisurely beach day. Sunsets here are notably mesmerizing, painting the sky with a spectrum of colors. Despite a stone throw's away from the bustling resort town of Playa Blanca, this is the perfect romantic getaway.
3. Playa de la Arena: The Dark Beauty
An easy walk away from quaint fishing village of Playa Quemada, the North tip of the Monumento Natural de los Ajaches counts on its dramatic appearance, which offers a colossal dark dune set against a deep blue ocean.
4. Playa del Risco: Remote and Ravishing
Accessible primarily by a one-hour, steep panoramic hike along the Camino de los Gracioseros, the journey to this beach is as rewarding as the destination itself. Crystal clear waters meet a sandy stretch that feels worlds away, while La Graciosa looks at you from across the Strait of El Río. Want to be inside the famous vista from the Mirador del Río? This is your chance.
5. Playa del Paso: In the Heart of Volcanoes
A pitch-black beach that remains untouched in the heart of the Timanfaya National Park, Playa del Paso is not for swimming, but offers an intimate setting for relaxation and reflection, surrounded by the black expanse of the lava fields.
6. Playa de Famara: The Great Bay
Backed by the impressive cliffs of Famara -- a drop almost 700 meters high -- this six kilometers beach, bordered with desert dunes, is a majestic spectacle of nature. Famara is not only Lanzarote's surfing capital, the beach is also perfect for unending walks and nature gazing. Avoid it with strong winds, as the sand will hurt your eyes awfully!
7. Playa de Montaña Bermeja: Unexpected Colors
Deriving its name from the red mountain that stands sentinel nearby and cherishing its peculiar green pond, this black beach shows Lanzarote's vivid palette. Strong waves don't make it ideal to swim, but the rocks on the west end offer fun exploration and the black gravel is fantastic under your feet. An ideal spot for meditation and sunsets. Close to the natural marvel of Los Hervideros if you're looking for a pleasant walk.
8. Playa de

Ó

rzola: The Force of Nature

Situated in Lanzarote's northern tip, the wild beach of Órzola offers pristine waters and fine golden sand, a dramatic cliff backdrop and vistas on the Chinijo Archipelago -- from La Graciosa to the solitary Roque del Este -- and roaring waves. From the west end, another cove can be reached via sea (with low tide) or climbing easy rocks, to discover a cave on a smaller beach. There are strong currents, so swimming is not suggested, while it's a wonderful place for surfing, walking and playing. May be windy.
9. Playa del Mojon Blanco: The White Wonder
With stark white, flour-like sands, black rocks and delightful beach vegetation, and its small protected bay against the spectacle of the furious waves of the North coast, Mojon Blanco is an unforgettable anomaly in Lanzarote's beachscape, where the power of nature is on full display. The ancient lava fields of the Volcan la Corona, the Malpaís, will make you feel on another planet. A beautiful one. May be windy, but lava huts will protect you.
10. El Caleton Blanco: The Luminous Lagoon
With its unique tide-dependent lagoons -- totally protected as to form a vast natural pool -- and bright sands, El Caleton Blanco is an awesome playground for a family day. Kids -- of any age -- will have nooks and all kinds of crannies to explore. In and out of water. A very popular stop for camper vans.
A Glimpse Into Lanzarote's Beach Wonders:
These beaches are but a glimpse into Lanzarote's coastal wonders. Each offers a unique story and ambience. In the coming articles, we'll delve deeper into the individual charm and characteristics of these beaches, ensuring you're equipped to make the most of your Lanzarote beach experience.
So... which of Lanzarote's incredible beaches is the best for you?
Remember, while each beach has its unique charm, they all share the tranquility and beauty Lanzarote promises. Whether you're seeking relaxation, romance, or nature's raw beauty, there's a sandy stretch on this island with your name on it. Dive in and let Lanzarote's shores sweep you into a world of calm, meditation and wonder.
The Best Beaches in Lanzarote
Ready to embark on your Canary Island adventure? Subscribe to our newsletter for the latest articles, videos, and travel tips to make your journey unforgettable -- or to keep dreaming or planning your move to the Lucky Islands.