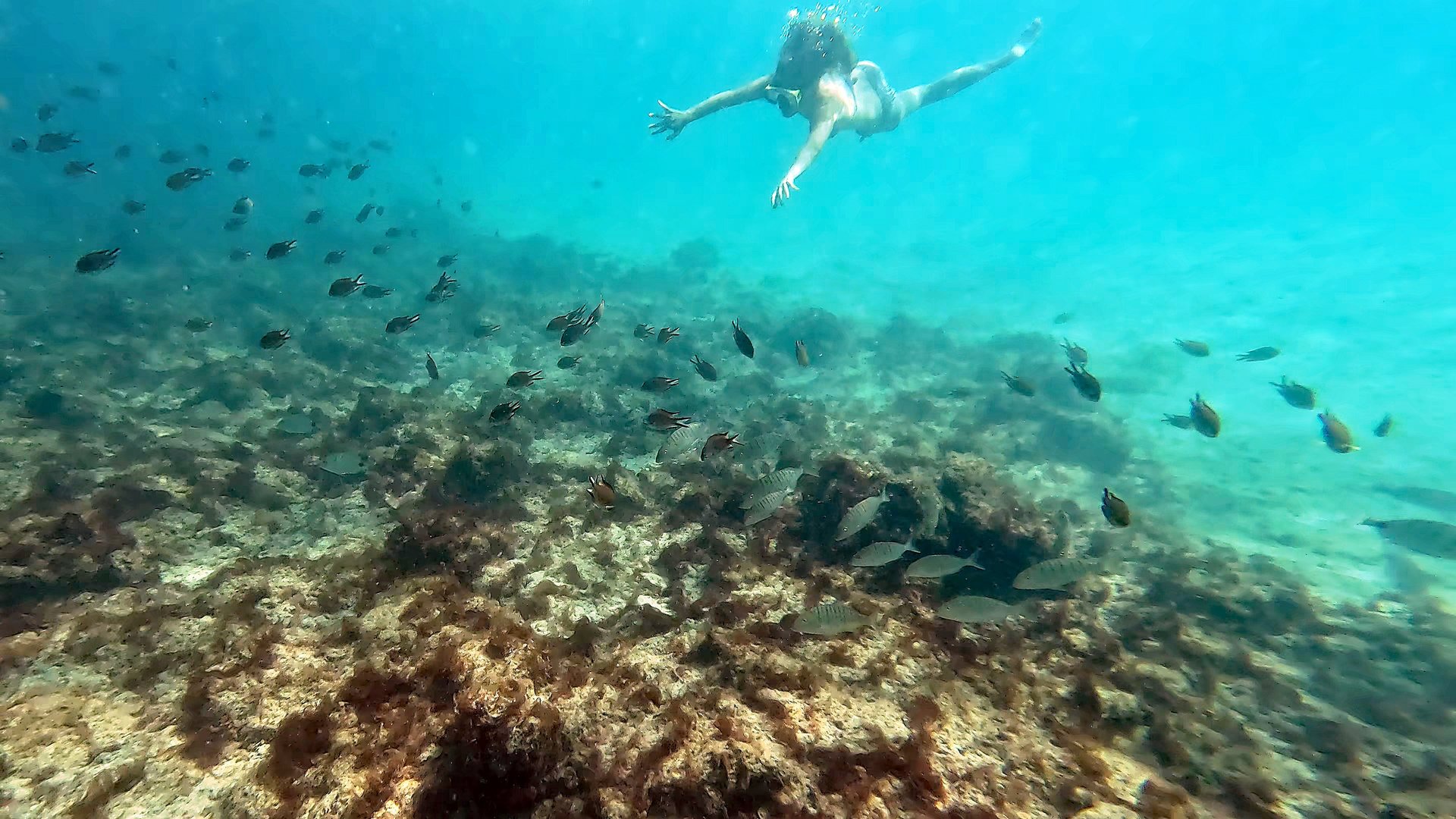 Much More than Graciosa - Hiking La Graciosa South Coast (4K Video)
Discover the untouched beauty of La Graciosa with our latest hiking (and a bit of freediving) video. We'll journey through the sandy lanes of Caleta del Sebo, the limbo of El Salado and azure waters of Playa de la Francesa. We'll uncover the secrets of Playa de la Cocina and then, after an exhilarating traverse at the ocean-lapped foot of Montaña Amarilla, we will walk to El Corral and finally cut right through the desert interior -- for an unusual loop of the South Coast. Filmed in crisp 4K and complemented by an original soundtrack, this video offers a unique perspective of the eighth Canary Island. Essential travel tips included. Dive in!
VIDEOSTHE OTHER CANARIES
A loop of the South Coast of the eight Canary. No trail seems to do that, right?
Disclaimer: Outdoor activities you see in our videos inherently come with dangers. Remember, we're trained athletes, and there's a ton of experience behind each action you see. Though most of our videos show easy activities, not everything is beginner-friendly as it may seem. We strongly advise against replicating any actions seen in our videos without the appropriate training, experience, and equipment. If you decide to try anything based on our videos, it's all on you and at your own risk. We cannot be held liable for any incidents or injuries that may occur. Parents, always gauge what's right for your kids based on your own and your children's capabilites.
Safety first, always respect and keep a healthy fear of the outdoors, and have an amazing time out there!
Every morning, as we step out into our courtyard, we are greeted by the silhouette of a stunning landmass just off the north coast of Lanzarote -- La Graciosa. The small eighth Canary Island, just a stone's throw away, holds a wealth of hidden treasures and adventures. Though its name translates into "pretty," this no-car haven is far more than just that.
So, a September Sunday, we walked to the tiny Órzola harbor, jumped on a ferry, and after twenty minutes of astonishing views, we were ready...
The Project: a South Loop Hike on La Graciosa
In our latest video, we decided to take you on a unique journey across this captivating island. While most tourists are familiar with the northern loop, often explored on a mountain bike (and for good reason -- considering Playa de las Conchas is maybe the most beautiful beach we've ever seen) we delved deep into the charms of the southern side of La Graciosa. Starting from the idyllic capital, Caleta del Sebo, with its sandy lanes and tranquil harbor plaza, our adventure took us through fascinating reefs, pristine beaches, mesmerizing waterways exposed by the low tide, the caves and incredible golden hues of Montaña Amarilla, and finally the brutal desert environment of the interior.
The main caveat of our project was the connection from Playa de la Cocina, next to the south tip of the island, to the other end of its bay just under Montaña Amarilla itself: a foot trail brings to an end of the bay from Playa de La Francesa, while another trail brings hikers, safari jeeps and mountain bikers to the other end. Looking at the map, it doesn't seem to exist a trail to complete just that small stretch (maybe 500 hundred meters). The whole idea was: can we do the whole loop connecting those two ends?
Assuming we can, apart from that, the whole loop would be about 7-8 kilometers. Not much, but never underestimate the desert!
You can discover if we made it in breathtaking 4K quality, and we also created an original soundtrack to accompany our visuals. It's an audio-visual treat that will transport you to La Graciosa's sun-kissed shores and immerse you in its serene and unique ambiance.
A glimpse of what you can expect:
The charming sandy alleys of Caleta del Sebo

A walk through the mesmerizing limbo of land and water at El Salado bay during low tide.

Underwater explorations, revealing the marine beauty of La Graciosa.

An adventurous trek beneath the cliffs of Montaña Amarilla.

Stunning views from El Corral's surfer spot, offering a panorama of the entire Archipelago Chinijo

A voyage through the Saharan desert environment of the heart of La Graciosa under Montaña del Mojon and through Llano del Corral and Peña Laja

The spectacular cliffs of Lanzarote on the other side of the electric-blue Río Strait
Pro tips for your own adventure on La Graciosa
La Graciosa might be small, but it boasts a full-blown desert environment.
Pack plenty of water!

Always wear sunscreen & a hat.

Winter is the best season to explore the island.

Avoid venturing out during midday.

Save a couple jeep service numbers, just in case.

If traveling with kids, be ready (and fit enough) to assist them and carry them.
So if you're ready to witness the unmatched beauty of La Graciosa, head over to our YouTube channel or click the link below. And while you're at it, don't forget to subscribe for more adventures!
Watch our La Graciosa Adventure now!
La Graciosa is not just "pretty." It's a world of wonders waiting to be explored.