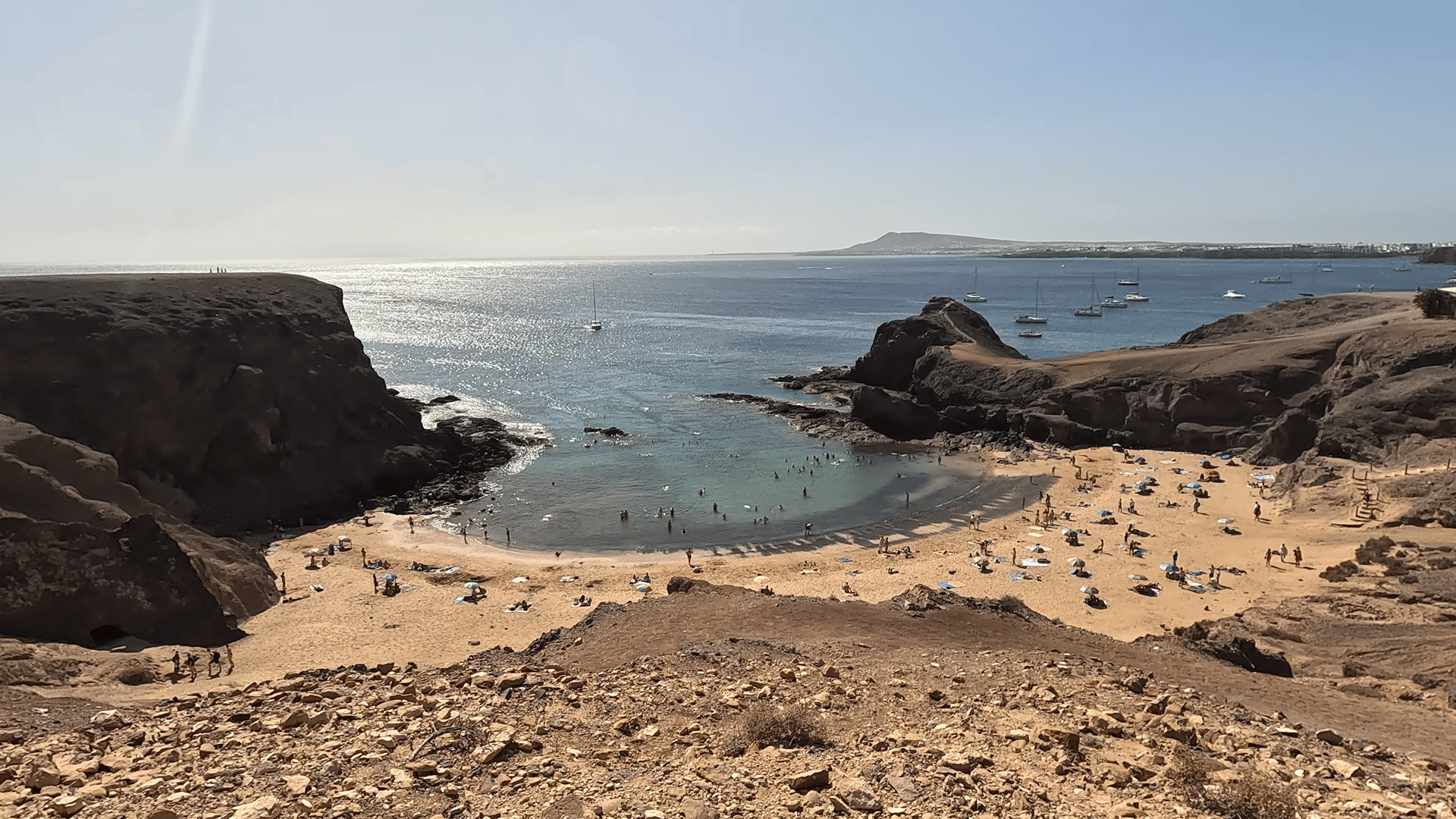 Papagayo Connection - Hiking and Swimming from Playa Mujeres to Playa Papagayo (4K Video)
Discover Lanzarote's untamed beauty in our latest 4K adventure from Playa Mujeres to Punta Papagayo. Trek and swim through Los Ajaches' iconic landmarks like Playa del Pozo and Playa de la Cera. Starting at Playa Mujeres, easily accessed from Playa Blanca, we journey through vibrant turquoise waters, rugged terrains, and hidden gems, culminating in an exhilarating swim from Playa Papagayo to Punta Papagayo and a fun desert hike on the trails for the way back. Experience South Lanzarote's beach wonders and stunning coves.
VIDEOSBEACHESHIKING AND TRAILSSNORKELING AND FREEDIVING
Hiking and Swimming from Playa Mujeres to Playa and Punta Papagayo through the iconic Monumento Natural de Los Ajaches in South Lanzarote.
Disclaimer: Outdoor activities you see in our videos inherently come with dangers. Remember, we're trained athletes, and there's a ton of experience behind each action you see. Though most of our videos show easy activities, not everything is beginner-friendly as it may seem. We strongly advise against replicating any actions seen in our videos without the appropriate training, experience, and equipment. If you decide to try anything based on our videos, it's all on you and at your own risk. We cannot be held liable for any incidents or injuries that may occur. Parents, always gauge what's right for your kids based on your own and your children's capabilites.
Safety first, always respect and keep a healthy fear of the outdoors, and have an amazing time out there!
Lanzarote is an island of vibrant contrasts and untouched landscapes, inviting explorers at every corner. Our latest adventure, "Papagayo Connection," captures this spirit in striking 4K resolution.
Getting to Playa Mujeres
Accessing the beautiful Playa Mujeres is a little adventure in itself. Follow the signs for Playas Papagayo from Playa Blanca: just East of the town, beyond Marina Rubicón, you can't miss them. A fun and bumpy dirt road journey from Playa Blanca awaits (are your suspensions any good?). As you take the right at the sole fork, the sights of the ocean become your travel companion. While Playa Blanca's bustling ambiance is just a backdrop you still see from here, Playa de las Mujeres -- with its golden expanse peppered with tiny black grains -- transports you to the peaceful realms of the Monumento Natural de Los Ajaches, a perfect example of Lanzarote's efforts in conserving nature's marvels. Getting here does come with a minimal toll of 3€.
By Land and Sea
The idea of our trek was the blend of land and sea traversals. So we donned watertight backpacks and open-water buoys and embarked.
Lanzarote unfolded a tapestry of colors, from the shimmering turquoise waters -- a color which often seems too beautiful to be real -- teeming with diverse marine life to the rugged coastline painted in shades of yellow, rust, and ochre. Our path led us through secret canyons, mystic caves, easy climbs and slippery rocky terrains (wear good diving shoes). We were greeted by hidden gems like the the secluded Caleton San Marcial (an almost secret, diminutive couple of beaches just East of Mujeres, reachable swimming or by the rocks both with low and high tide), the evocative Playa del Pozo and the serene Playa de La Cera, all of them set like gemstones in cliffs complexly carved by the masterful hand of volcanic rage, wind and ocean.
A Strange Encounter
As we were wandering underwater, we were rewarded with the sighting of an alien. Getting closer, the guy began to wave at us with a weird proboscis. It was the elusive sea spider: Pycnogonida, look them up! They are very, very mysterious animals. You can see the sea spiders (because, just later looking at the footage we discovered there were two of them!) at the minute 2:20 of the video story.
Playa de Papagayo
We disembarked below the Mirador de Papagayo, where emerald pools host baby fish and crabs, and the rock formations sculpt monsters. We explored the place (up and below) and then resumed our walk for the last stretch, leading us into the deep-set cove.
Reaching the iconic Papagayo Beach, renowned as Lanzarote's poster child (and for good reason, at that), Valentina and Daniele took the liberty to indulge in a 500m aquatic dance to Punta Papagayo, surrounded by a jaw-dropping spectrum of marine fauna. Our return, marked by the intricate rocky formations, was equally mesmerizing.
Back by the Desert
Our adventure didn't end there. We climbed up from the heavenly cove by the far end (because it's way funnier than the standard stairway leading there), and steered clear of the frequented parking areas. Then, we embraced the sun-flooded network of trails of the Ajaches, guiding us back to Playa de las Mujeres and our trusted Megane. Arm yourself with sunscreen and a camera, for this 30-minute stroll, kissed by the Saharan sun, is nothing short of a visual feast which will offer fantastic scenes and an experience you'll want to remember and tell.
So we saw in rewind all the awesome beaches we had passed from the low path, enjoying them from a new and exhilarating point of view.
Papagayo Beaches: Crowds and Seclusion
Playa Mujeres: Beyond being a postcard-perfect beach, its popularity also stems from being the first beach en route. Thankfully, its expansive size ensures there's space for all.

Playa del Pozo: A less-crowded alternative, offering tranquillity amidst the hustle and a distinctly Saharan feel. It can be reached from the Papagayo as well as from the Mujeres parking, but requires a bit of walking in both cases. Best choice if you look for quiet and space.

Caleton San Marcial: Almost a secret cove, despite its ease of access from Mujeres. Can be reached by the rocks (beware: slippery!) or with a short swim. They are two diminutive beaches, very tide-dependant.

Playa de la Cera: An alternate spot when Papagayo gets too busy, given its proximity and visibility from the shared parking space.

Papagayo: Considered by many the most beautiful beach in Lanzarote, its petite size means it often brims with visitors. Weekdays or shoulder seasons are ideal for quieter experiences.

Playa del Congrio: Beyond Punta Papagayo, this wilder, windy stretch is a preferred spot for nudists. We didn't touch it in this trek, but it can easily be reached from the Papagayo parking with a 5-minute, pleasant walk. Beware: currents and waves are definitely stronger here than on the South-facing beaches.
"Papagayo Connection" is a symphony of nature's grandeur and the spirit of exploration. A deep dive into the very essence of Lanzarote - where nature's wildness meets human curiosity. This Venture with us through Lanzarote's untamed beauty, a stone's throw from its buzzing tourist core. Dive deep into the experience, let the spectrum of colors, terrains, and stories captivate your spirit.